Rainwood's Tick Chart Indicator
An indicator originally developed for MetaTrader 4 to display japanese candlestick tick charts. Since MT4 doesn't provide an option to display tick based charts, many people were looking for such an option. The original RW Tick Chart indicator has been coded to fulfil this need.
This happened many years ago and now after many different versions for the MetaTrader 4 platform RW Tick Chart indicator is also available for MetaTrader 5.
Main Features
Real-time tick candle drawing in indicator window, MT4 offline chart or MT5 custom chart
Number of ticks per candle can be set as desired
History tick data is generated (MT4) or queried from Terminal (MT5)
Bid, Ask or Mid price can be selected as base of tick chart
Tick chart prices can be rounded to pip value to allow Bob Volman style trading
Custom indicators can be added to offline tick charts in MT4, or to custom tick charts in MT5
RW Tick Chart - MetaTrader 5 settings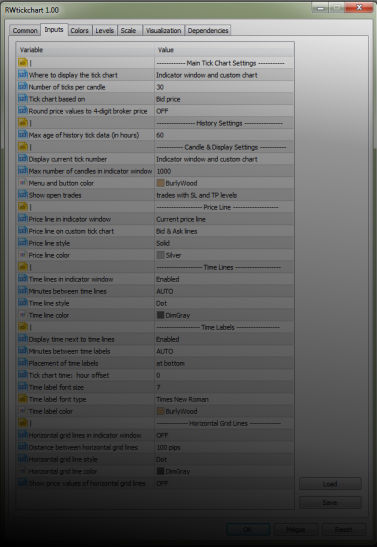 RW Tick Chart - MetaTrader 4 settings